(Creative Church Handbook: Releasing the Power of the Arts in Your Congregation was release after this article was written, an contains a treasury of arts ideas for churches. See also CreativeChurchArtsIdeas.org.)
In the last post, I asked, "How can we open up our churches and our minds so that more people can get involved in the creative process, yet continue to raise the quality of our art (painting, music, dance, sculpture, etc)?"
It's an important question, and in just addressing it we'll move closer to the proper place of the arts in the church.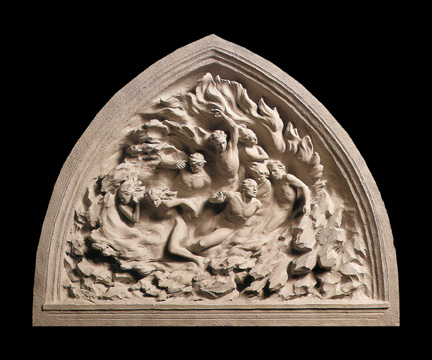 There are a number of reasons why more protestant churches haven't embraced the arts. Many pastors and leaders, while witnessing the influence of the arts on the culture, are not aware of the vital role in the maturing of the body of Christ the arts have (see the blog post "Arts and the Maturity of the Church") or how effective the arts can be in conveying God's messages to their communities. If they do grasp that, more questions come up… "How do you find quality Christian artists who will get involved or contribute", "What happens if someone gets offended because we don't want to use their art?", or "How do we deal with the people who say God told them to make something, yet it doesn't appear to be up to a displayable standard?".
I believe part of the answer to these questions is in creating a system in our churches to nurture and encourage creativity. The Vineyard Boise "VineArts" program does a wonderful job with this, providing training, encouragement and opportunity for all skill levels. Another church in Nebraska, Berean Bible Church, provides affinity groups for artists at different levels of skill and experience. There might be a group where people exploring their creativity can grow, an intermediate group of those with some experience, and a group for working professional artists. As artists grow they can move through that system.
People of all artistic skills levels can get involved in outreach and ministries, like nursing home performances and exhibits. Artists at the Boise church use the arts to show compassion  to Alzheimer patients. Many who have lost their ability to express themselves verbally can spend an afternoon experiencing the freedom of expression that painting can offer. By facilitating this, the artists give a wonderful gift to the patient and their family. The patient's work is framed and presented to the family, providing an unexpected thing of beauty in  the middle of the struggle and strain of the disease.  This is one of the many ways that the arts can uniquely convey the love of  God to our communities.
A way to keep the quality of work shown or performed in your church high is to have juried exhibitions and events. Works that pass a jury might be displayed in your public areas or become part of a permanent collection. The jurors can be anonymous—not the pastor!—people like art teachers and art professionals, possibly from outside your congregation. This way people know that anyone is welcome to make art, but you have to go through the jury process to have your work hung or performed in these areas. If you don't make it this time, keep trying. This kind of system can cut down on personal offenses and set a standard. It also facilitates a way to disciple artists and help them grow. When an artist doesn't  pass the jury, we can encourage them to separate what they  do from their identity as a person, as well as come to grips with the fact that not everything they create is meant to be displayed. Going through these kinds of processes develops character and patience.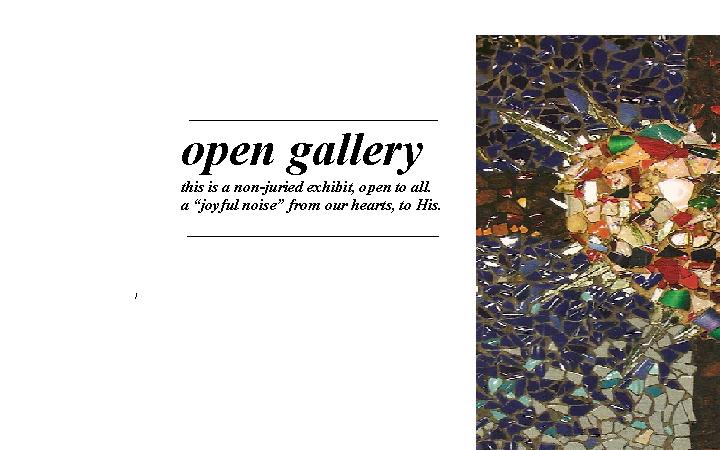 And for those who aren't ready for the jury process, or are exploring their creativity, you might design a gallery that is not juried and open to all, with paintings or works displayed in a uniform, professional matter for a set length of time. This openness and inclusion will have a wonderful effect on budding artists and their church communities.
In my experience, there are many frustrated "creative types" in our churches looking for ways to use and grow in their abilities for the glory of God. We have to find ways to involve, encourage and disciple them.  These spiritually sensitive people will find their real fulfillment as artists and humans and as they take their place in the Body of Christ. The Body will be incomplete while the arts and artists are missing from it and the beauty and creativity of God's personality will remain partially veiled. As artists flourish the Body will flourish. As they are renewed, the Body will be renewed.
Of course, for these systems to work smoothly, there needs to be someone running them. From talking to pastors and leaders, there is a great need for artist/leaders. If you are a pastor, I encourage you to pray that God will bring someone to you. I believe He will do this in every church that has a desire to grow in the integration of the arts. He wouldn't give this desire without providing for it.
In addition to the church websites embedded in this article, there are many other resources available to help in the process of integrating the arts and artists into your church. CIVA (Christians In the Visual Arts) has a gallery handbook available here. The New Renaissance Arts Movement provides many connections and resources, and Creative Church Handbook is a comprehensive resource on arts ministry in the church.
May God speed the New Renaissance that is rising!