"…but we also glory in tribulations, knowing that tribulation produces perseverance…"(Romans 5:3 NKJV)
Several years ago my parents got an "Award of Perseverance" from their church; a little framed certificate of recognition that was probably designed on a pastor's computer.
But it was a big deal for our family; an acknowledgment of two people who "gloried in their tribulations".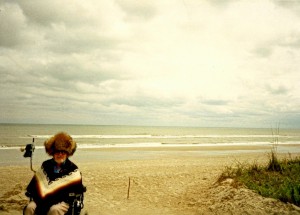 For nearly 40 years my parents had battled the mysterious and debilitating disease of multiple sclerosis. The majority of those years my dad was confined to a wheelchair, paralyzed from the neck down. But he had been trained as an MD, so with the help of my mom, a nurse, he continued to work and practice medicine, often putting in longer work days than I did. Whether they were working or at home mom took care of him hand and foot, 24/7 for the better part of four decades.
That's the sort of daily, grind-it-out perseverance I grew up with.
Few can say they've accomplished such a feat, and I certainly fall short, but I tried to learn from their example of hanging in there; working on a book for 10 years, staying at the same job for 20, etc.
Then a few summers ago I got schooled in the pain–and unexpected pleasure–of perseverance. Not the "hang in there for years" kind persevering, but the "pressure cooker" variety that comes on quickly and threatens to crush you.
In retrospect, I'm not sure what I was thinking when I decided to produce the first Creative Church Conference.  There were many confirmations that God was in the plans, but I suspect He allowed me to be oblivious to how much raw work it would be; otherwise I might never have begun.
The arts are a "stronghold" for the enemy; an area of great cultural influence that he's exploited, and that many Christ-followers have avoided, even abandoned in the past.  I knew we'd run into spiritual resistance in producing an event aimed at empowering churches and artists to shine the light of God 's  love in the arts.  Early in the process I felt God's leading to arrange daily intercessory prayer before, during and after the event, and it did make a monumental difference.
But I underestimated how much emotional and mental perseverance it would take to bring the dream to reality.
As the pressure mounted over the months leading up to the event, it became clear that I was in over my head. The logistics were mind numbing; creating the program, schedule, systems, marketing and content from scratch. Recruiting speakers and volunteers, publicizing non-stop. Stress was my shadow. I often couldn't sleep.  My family would take a huge hit if the conference tanked.  Many times I considered abandoning the project.  It was all I could do to persevere and trust that God would bring everything together, and maybe even allow us to break even.  At a certain point I was completely depleted on every level, and I felt so defeated that it was like someone had taken a sword and cleaved me in half, old testament-style.  Aside from an excruciating divorce, it was the toughest experience of my life.
There was a point during the process when it became hard to hear God's voice. He seemed to become quiet, speaking mostly in abstract, non-directive ways.  Three times when I asked him if I could or should pull the plug he brought an indirect answer that could only be interpreted as affirmation. Once as I sat overwhelmed and praying about whether to cancel one of the main speakers and scrap the event, I got an email from that speaker saying he had just booked his flight. I guess we were going forward
Then God started assembling an incredible team of leaders to pitch in– some of whom had felt drawn to join the church just recently.  Slowly the burdens started lightening. Attendees began signing up.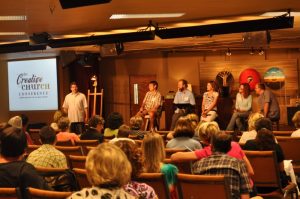 About a week before the event, I sensed a tectonic shift in me.  My anxiety gave way to a uniquely encompassing peace. The ship of perseverance seemed to be pulling into its port.  And the sense of divine tranquility wasn't exclusive to me; many attendees said they felt God's presence permeating the event, a result of that intercessory prayer. The sessions and workshops were in many cases even better than I'd envisioned. Dozens of people had encounters with God, receiving ministry, encouragement and direction.
After a nightmarish multi-month journey, the conference was a dream come true for me and others. It was one of the high points of my ministry; a sort of culmination of all God had been doing in me so far. Writing FDI, starting The New Renaissance Arts Movement, had all been building to this point. The months of pain during the preparation gave way to pleasure; my own, and a real sense of God's pleasure.
And I almost missed it. I very nearly collapsed in the pressure cooker.
The fruit from that first conference benefited thousands of people, and since then we've produced more Creative Church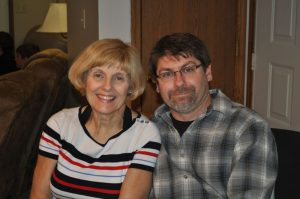 Conferences—they've gotten much less stressful.  My book Creative Church Handbook (IVP) has been published, and the movement to release the arts and creativity in and through the church has grown.
As for my parents; through their example they became an inspiration to not just me, but to hundreds of people who knew their story. Even years after my dad slipped into glory, my mom still gets daily pleasure from their decades of perseverance.
I can now say from experience: when we face unexpected–yet inevitable–challenges and trials that require more perseverance than we think we have, we can take heart, knowing "… perseverance (produces) character; and character, hope.  Now hope does not disappoint, because the love of God has been poured out in our hearts by the Holy Spirit who was given to us." (Rom. 5:4-5)
And when you feel that love well up in your heart, and flow through you, you realize that, that, is pure pleasure.