If you follow this blog, you know that recent exciting signs of a New Spiritual Renaissance in the arts have shown up in the Church and the culture.  The Pope invited artists to the Sistine Chapel last November to reconnect the Catholic Church with the arts, Evangelicals have become adept at electronic media arts, film and drama, Charismatics have been prophesying about an arts renewal, and denominational arts initiatives and sponsored galleries have been popping up.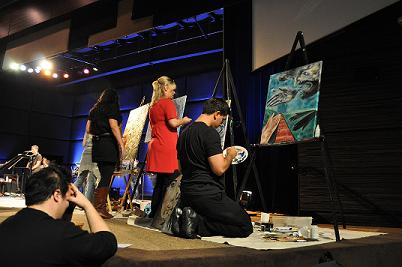 But I have to say; I've never seen more exciting evidence of this New Renaissance than at Bethel Church's (Redding, CA) School of Kingdom Creativity, May 25th –28th. 
Bethel could be identified as a Charismatic church, and the artists there have been exploring the area of "Prophetic Art" for some time, with amazing results. At the conference they gave reports of salvation and healing through the arts, stories of people turning to Christ through God's unique message for them in prophetic drawings, or being physically healed by looking at a painting. Hundreds have felt God speak to them through inspired pictures made in a matter of minutes while they watched. Wild Stuff.
This 4-day conference immersed us in a sweet, spirit-led creative flow that made us feel as if anything was possible. High-energy worship opened each session while four visual artists painted on the stage and dancers twirled off to the side.  Presentations included short films, dance performances and drama. A few times musicians sang spontaneous songs that they sensed God giving them for members of the audience. Theresa Dedmon, Kris Vallotton, and Shawn Bolz spoke passionately during the main sessions about God's plan for our creativity, and workshops offered multiple opportunities for interactive, creative exercises and listening to God. Between sessions artists made free prophetic portraits based on what they felt God saying, for anyone who would sit down and talk with them.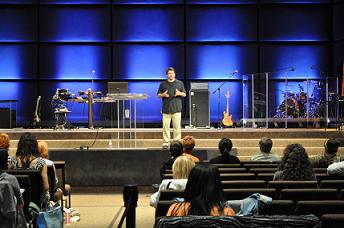 Workshop titles included,  "The Creative Power of Worship", "Art as Intercession" and a fashion session that nearly brought my wife to tears called, "Adorned in the Fashion of Heaven". She loves fashion and design and was ecstatic to hear teaching on how God can use it. They even opened up a workshop for me to teach, "Collaborating with God for a New Renaissance", which was streamed on Ibethel.tv and should be available for download from that site soon.
Danielle and I were thrilled at the way these Bethel folks expected God to regularly move through the arts. Why wouldn't He?  They used the same principals found in Finding Divine Inspiration: Working with the Holy Spirit in Your  Creativity ; when we learn to listen for God's voice and collaborate with Him, our lives and work become so much more effective, inspired and enjoyable. Collaboration with God really is the key to the New Renaissance.
As this spiritual Renaissance in the arts gains steam, I believe that we'll see all levels of art and artists operating in congregations across denominations, from the Master Artist capable of creating works that will stand the test of time and can be prominently displayed, to the novice lacking in technical skill but willing to explore the creativity God has put in them. This New Renaissance differs from the first in that it's not only about masterpieces and genius artists, gilded churches and timeless artworks, but more about revealing the personality, purposes and love of God through art and creativity. While a work may not be a technical masterpiece, it can still be a spiritual masterpiece in that it delivers God's messages brilliantly. Theresa Dedmon, who runs the School of Creativity, says, "We want to transfer what God is doing into a form that our community can taste and see and touch".   Our churches and our culture need great works of art that will last for centuries, AND spontaneous works that express what He is doing in congregations and individuals. God is calling for both…and more. If artists learn to collaborate with Him, He will often use our work in immediate and powerful ways to reaffirm that He is real and moving in the world now.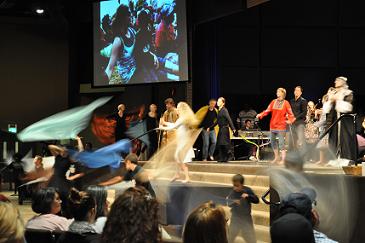 That's what excited me about this conference: seeing more evidence that God will naturally use the arts as a conduit of his love and power, and that He'll really touch people through art and artists as we partner with Him in creativity, whether we are highly skilled or a beginner. 
That is good news for churches and the Body of Christ. It opens up more avenues for the arts to fully integrate into the church, and puts the power of inspired creativity into many more hands.
We plan to return to the Bethel School of Kingdom Creativity next year. I'll keep you posted on the dates. 
Of course, for more on The New Renaissance Rising, including arts links and dates for more arts events like The School of Kingdom Creativity, go to thenewR.org.
What do you think about "Prophetic Art"?  Would you like to see it in operating in your church?
Blessings!
Scott