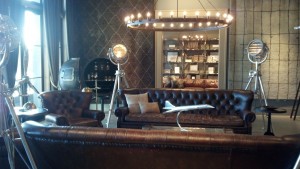 One of my happy places is the local Restoration Hardware store. It's full of bold and over-sized furniture and design elements, many of them throwbacks to the grand ideals of the past. The stores brim with leather, polished aluminum, and natural weathered wood. We have a new two story version of this fabulous establishment in Indianapolis, and last week I went there not to purchase something, but to refill my creative well.
I'd been working on a number of creative (and not so creative) projects, and was feeling depleted. Everyone needs regular breaks from work. This is one of the reasons God created the Sabbath; to give us a chance to decompress and recharge. As the old proverb says, "All work and no play makes Jack a dull boy."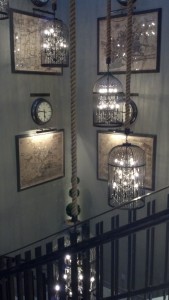 But it's also important, especially for those involved in creative pursuits, to not only rest, but refill the well we draw from.
Of course, the best way to do this is by getting plenty of spiritual nourishment. Nothing has the effect of reviving and renewing me like time in God's presence; whether it's meditating on the bible, waiting in prayer, worshiping or just being in community at church. And the privilege of partnering with him in my creativity is one of the truest sources of inspiration and joy in my life.
But I also find that letting my soul sort of "play" can have a significant effect on my sense of restfulness and wellbeing. I love good design, and places like RH become for me a playground of whimsical creative ideas that touch my soul. This playfulness is a spiritual activity, as well, a recognition and celebration of the life and passions God deposited in me.
In her seminal book, The Artist Way, Julia Cameron calls this concept of taking your soul out to play an "artist date":
"An artist date is a block of time, perhaps two hours weekly, especially set aside and committed to nurturing your creative consciousness, your inner artist. In it most primary form, the artist date is an excursion, a play date that you preplan and defend against all interlopers. You do not take anyone on this artist date but you and your inner artist, a.k.a. your creative child."
It might be a walk in the park, a visit to the pet store, preparing a meal, a visit to a museum, a trip to RH; anything that might refill your creative well. But you should be alone to get the full effect.
If you are feeling creatively dull, make sure you are spending time in God's presence. And consider taking yourself on an artist date.
Where are some places you like to go that fill your creative well?