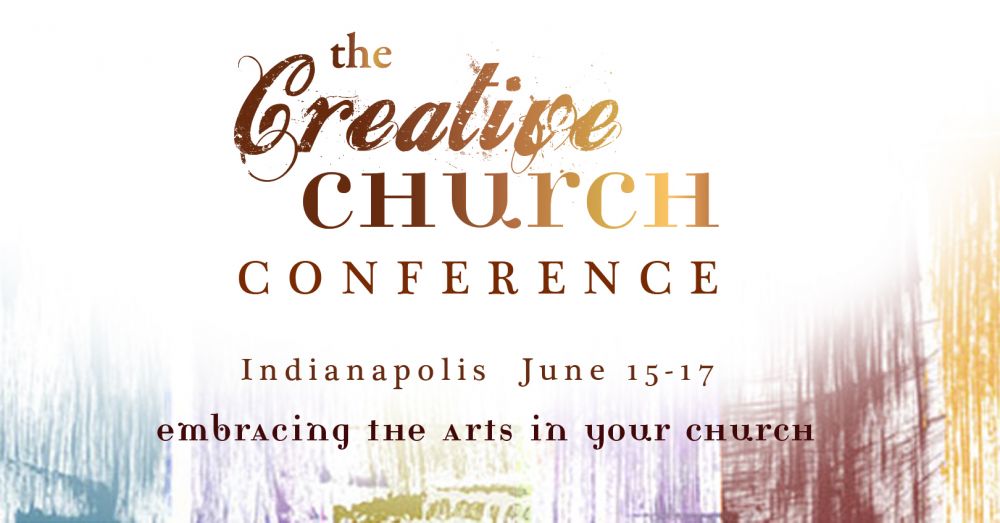 There are about 40 days to go before the Creative Church Conference June 15-17 in Indianapolis! I'm amazed at what God has put together.  Seriously.
The vision for this unique conference and its sister event in Boise in July is to amplify the conversation about what God is doing with the arts and creativity in the church. We hope to create a sumptuous smorgasbord of inspiring and practical ideas about how to integrate creativity and the arts into the community, services, and outreach of the local church. And to offer inspiration and refreshment for artists and creative leaders.
This conversation reaches across denominational boundaries, so the dream for this conference was to have a mix of perspectives and approaches, to bring together leading practitioners from different traditions and backgrounds, from Presbyterian to Vineyard to Lutheran to Catholic to Charismatic and everything in between. We can all learn from each other.
Rory Noland, author of the classic Heart of the Artist, probably the most widely read book on artists and faith to come out in the last 15 years, as well as the excellent follow-up Thriving as an Artist in the Church, will share about the important place of the artist and the arts in future of the church. Rory was one of the original worship leaders at the uber-influencial evangelical leader, Willow Creek Church (Chicag0) and he brings wisdom and perspective to the conversation.  Theresa Dedmon, arts leader at the charismatic powerhouse Bethel Church, Redding, CA will  share her infectious enthusiasm and thrilling stories about the power of the arts in outreach. She speaks internationally and has seen God move creativity through innovative and bold techniques. She's also an art therapist and thrives on ability of the arts to touch individuals.   Joe Boyd, amazing storyteller, visionary filmmaker, improv actor and teaching pastor at the legendary Cincinnati Vineyard, will share his exciting takes on reaching out to community and telling kingdom stories creatively. Jessie Nilo, founder and director of VineArts Boise, one of the most vibrant church arts ministries I ever encountered, will bring her volumes of experience on leading artists, practical wisdom for running and sustaining arts ministry, and passionate heart to love people through the arts.  Beth Booram, author of the revolutionary new IVP book, Awaken the Senses, will show us how to engage our senses and right brain with our faith to magnificently enrich our encounters with God, and how to lead entire congregations in the experience.
We'll talk about engaging the arts in outreach, building community among artists, creating atmosphere and sacred space in our churches, drawing out the creativity inherent in the "average" person, how to start and maintain arts ministry, how to run a church art gallery, and more. Panelists like deAnn Roe, Creative Arts Director at Living Word Community Church in York, PA,  and Kyle Ragsdale, Curator of the Harrison Art Center in Indianapolis, will share insight and answer questions.  I'll contribute to the weekend with some perspective on what God is doing to awaken the arts and creativity around the world and help cast the vision for a creative church that more fully reflects His love and personality in the world.
We'll have some creative surprises and opportunities for attendees to get refreshed and inspired with prayer and creative play. We've been given the unprecedented opportunity to completely design both Sunday services at the Indy Vineyard on the 17th, to dream about what church could look like with the arts fully  integrated and utilized in services. Attendees will be able to brainstorm and contribute, or just sit back and enjoy.
I've been to A LOT of conferences on the arts, but I've never seen anything like this. It has the potential to push this conversation to another level. I can not wait to connect and exchange ideas others who have felt God's leading to reclaim the arts for His glory.
Because the truth is this: creativity, imagination, and the arts were conceived by our God.  They are inextricably intertwined with His personality and He is constantly practicing them–in every sunset, every cloud formation, every atom that dances in a cell. As beloved children created in God's image, we can't help but enjoy and practice creativity, too. It's time to see it flow through the Christ's church. We may not figure out every detail of how that all works over one weekend in June, but we'll certainly have lots of fun collaborating with God and each other as we explore the path. And you'll definitely leave with a better sense of how God may be awakening creativity in you and your church.
I sincerely hope you can be a part of the Creative Church in Indianapolis in June 15-17! Get more information and  register at http://TheNewR.com.