Have you ever had a  "This is who I am"  moment? That feel that whatever you were doing at the time is what you were made for, that you were right where God planned for you to be.  Well, I did last week at the Calvin College Festival of Faith and Writing in Grand Rapids.   The opportunity to hang out with the writing tribe, marinating in inspiring workshops and simmering to the transcendent words of world-class speakers, was everything I'd hoped it would be, and I felt like I… Belonged.   I was warmed by the poet Luci Shaw effortless dispersment of delicious little observations about everyday life.  She says she has trained herself to notice everything and suggested we ask ourselves the question "What is calling me to be attentive today" and  she likened keeping a writers journal to catching fireflies in a jar; she plucks an idea out of the air and writes it down in her journal, and each one is a little bit of light.  I was transported as Novelist Wally Lamb (She's Come Undone) read the writings of female convicts he has taught in writers groups. Eugene Peterson (The Message) pointed out that Jesus gave John some excellent writing advice when in Revelations He said, "Write what you SEE in a book."  (What DO I SEE?) Novelist Parker Palmer talked about writing the truth  because , "The soul does not like it when you distort it's experiences."  I watched and listened to Uber-agent Chip MacGregor analyzed book projects and dealt out rapid fire insights and advice with a touch of humor. Poet Scott Cairns encouraged us to pursue the "Recovery of the Body of Christ"  and envision,  "mutually incarnating our way into a collaborative constructive future".   He told the story of a priest who when confronted by an overzealous evangelical's question of, "Is Jesus your PERSONAL SAVIOUR?", answered with a grin, "No. I like to share Him."    The little things… the use of delightful words by expert crafters of language,  the simple poetic analogy, the inner thoughts poured out on the page… all led to that feel of identity.  I told my wife that I am happy to be a writer, to be working in my calling, and to be getting nourishment from the convergence at Calvin.     
But it wasn't just the festival and the people, I find the Calvin campus invigorating, too. Holland, MI, which is renowned for its tulip displays, is not far from Grand Rapids. The relatives of those famous Holland tulips seemed to have made their home at Calvin and were doing quite well for themselves in the sunshine.
And Calvin is rich in man(and woman)-made art, too. There are colorful sculptures like this one at the aquatic center,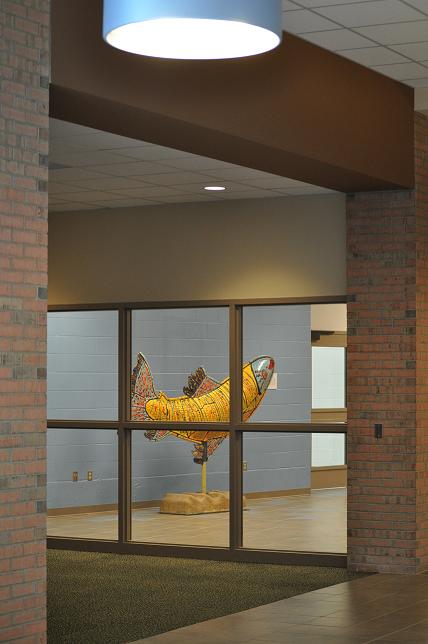 sprinkled around Calvin's campus and through the buildings.
And some beautiful textile works  like these in and around the chapel.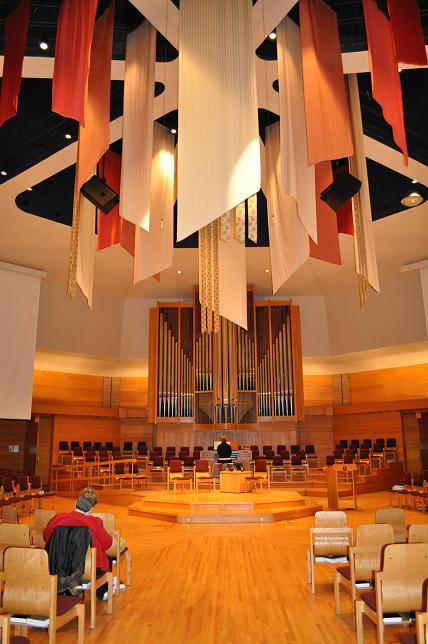 There also seems to be lots of value placed on architecture, which I always enjoy.  Bill Hybels (Willow Creek)  says  "Architecture creates expectation" and my expectations of creative renewal always seem to be met in Grand Rapids.  Last year I attended the Festival of Faith and Music, which alternates years with the Writing Festival, and got inspired by the richness of the music, the speakers (including Cornel West, Mako Fujimura and Andy Crouch) and the overwhelming Calvin student response to the whole thing. The level of engagement with culture that is promoted here is really encouraging for people like us who are " in the trenches".
One of the many insight I gained at this recent festival was the importance of keeping a current blog. The social media panel at one workshop said that there is nothing worse than a blog that has been neglected, and left un-updated.  Actually, I think being stung by 1,000 bees might be worse, but I get their point. You will see more regular blogs from this writer. 
By the way, mentioning bees reminds me of a Emily Dickinson poem that Luci Shaw randomly quoted at the conference, so I'll do the same.    
Fame is a bee.
It has a song—
It has a sting—
Ah, too, it has a wing.
I love that.
To keep up on upcoming creative Festivals at Calvin college and, for that matter, creativity and arts conferences around the world, visit http://TheNewR.org/arts-event.html