(By J. Scott McElroy, from Crosswalk.com)
In another life, I produced a fireworks show called "SkyConcert" that was choreographed precisely to music and broadcast live on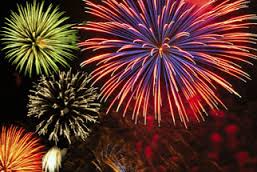 TV and radio.  In 25 years of doing that event we were never rained out.  I asked the Lord once why this fireworks show was so important that he always held back the rain.  He pointed out a banner hanging outside a local church, festooned with fireworks bursts and the word "Joy" in the middle.
Joy. Fireworks are designed for joy.  They are constructed with specific elements that radiate certain colors and patterns; barium chloride for green, copper compounds for blue, lithium carbonate for red, aluminum and magnesium for whites and silvers. The designers know exactly the effect they are looking for when they put the fireworks shell together.  And their work is a gift of joy to our eyes.
Pop songs have made the analogy that we are like fireworks. It's corny, but true. We were designed with specific elements; a measure of wit or sensitivity or hospitality, a helping of talent or skill or curiosity, a sprinkling of unique insight or perspective. When the Designer planed us, he knew exactly the effect he was looking for.  Believe it or not, like a firework, you are designed to be a joyous gift to the world.
READ MORE HERE