My heart did a little hop of excitement when I saw the news that millions of dollars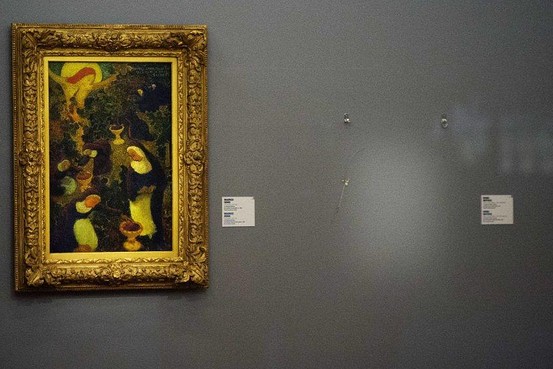 (or euros) worth of art has been stolen from a Dutch museum today.
That visceral reaction of delight surprised me. As a Christian, I don't condone stealing of any kind, and as a human I've felt the distress of theft many times, in many ways.
I think this crime gave me a thrill for what it signifies: someone recognizes the value of art!  These thieves could have stolen cash or jewels, stock certificates or automobiles.  But they went to all the trouble to steal art, knowing how difficult it would be to profit from it, but believing it was worth the risk. I think when I heard the news I instinctively realized that an act like this has the potential to cause people to stop and think, "Wow, art can have that much value? Why is that?"  Maybe the "there is no such thing as bad publicity" adage will apply.
It's a little ironic that in  a time when schools and communities are cutting arts budgets, somebody thought the best way to make a bunch of money was to steal some old paintings. In fact, it is actually refreshing to be reminded that, in our mass-produced world where we more often see art as entertainment than as something that can touch us profoundly, one of a kind, creative vision has incredible value.
I can even see an application to my life. How many times has my spiritual enemy stolen or attempted to steal my creative passion, or tried to trick me into believing I have nothing original or worthwhile to offer?
Maybe, like an art theft, these larcenies only affirm that the creativity God has put inside me has great value. What I create may never be worth millions, but it may touch someone, do some good in the world, or at the very least, be a step in the journey of becoming who God intended me to be.
I think that's true. And it's true for you, too. The creativity God has put in us has great value. Why else would the enemy be so intent on stealing it?
Here is to the return of valuable creative works, in Dutch museums and our own lives!
"I will repay you for the years the locust have eaten." Joel 2:25
"Finally, be strong in the Lord and in his mighty power. Put on the full armor of God so that you can take your stand against the devil's schemes. For our struggle is not against flesh and blood, but against the rulers, against the authorities, against the powers of this dark world and against the spiritual forces of evil in the heavenly realms. Therefore put on the full armor of God, so that when the day of evil comes, you may be able to stand your ground, and after you have done everything, to stand. Stand firm then, with the belt of truth buckled around your waist, with the breastplate of righteousness in place, and with your feet fitted with the readiness that comes from the gospel of peace. In addition to all this, take up the shield of faith, with which you can extinguish all the flaming arrows of the evil one. Take the helmet of salvation and the sword of the Spirit, which is the word of God. And pray in the Spirit on all occasions with all kinds of prayers and requests. With this in mind, be alert and always keep on praying for all the saints." Ephesians 6:10-20
J. Scott McElroy is the author of Finding Divine Inspiration: Working with the Holy Spirit in Your Creativity (Destiny Image), an arts advocate, and founder and director of The New Renaissance Arts Movement, which promotes the arts in the church. Reach him at: Scott@TheNewR.org.