In summer of this year a packet of  mysterious and highly creative postcards arrived in the mail. They announced a creative conference that seemed almost too good to be true: Story Chicago was billed as an event "for the creative class in ministry"  with the goal of  fueling "the producer generation of ministry leaders who live to communicate the greatest story ever today–the gospel."  The postcards claimed,  "You'll hear from some of the best creative practitioners in both ministry and the marketplace. From filmmakers and authors to actors and musicians, these presenters will help you engage people in the most compelling and effective way." Very interesting stuff. But the knockout punch came when I  went to the website. The Story website is very possibly the most creative faith-based site I've ever seen. Every creative person I've showed it to utters, "Whoooaa."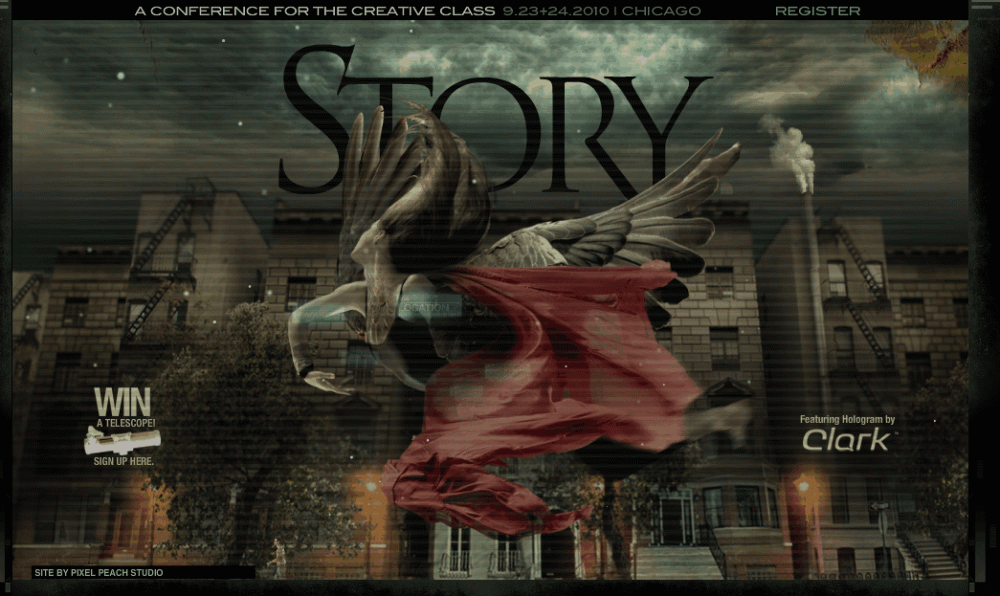 The site was created by the insanely inventive Pixel Peach Studios, and their founder  Gary Dorsey spoke at the event.  Other featured speakers at the conference  included authors Dan Allender and Leonard Sweet, the Producer of  TV's "Roseanne" and "Home Improvement", David McFadzean, Charlie Todd, the guy who founded Improv Everywhere,  and David Hodges, formerly with the band  Evanescence. The whole event was the brainchild of Ben Arment,  author and New Renaissance man.
Well, you know where I was the when the conference started on Sept 23rd, 2010. Firmly planted in a seat at  Park Community Church beside a couple of Indianapolis friends. The 500-seat conference was officially sold out, but my friends Jonathon "JT" Tremaine Thomas, founder of Eastgate Studios here in Indy, and Steven Potaczek, lead singer of 1000 Generations were able to a get some tickets from some folks in Michigan who couldn't make it.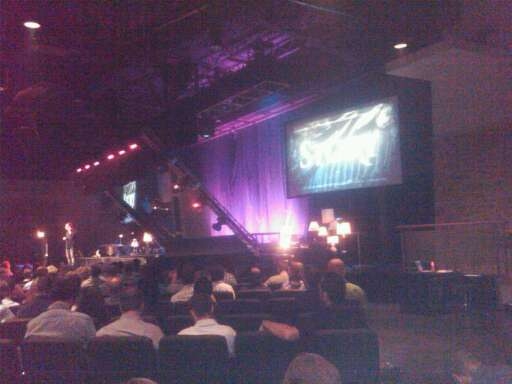 One of the first things we noticed was the oddly configured stage (hard to see here), a platform for creating giant holograms designed by Clark.  This was a tricked out version of some of the technology that large churches with multiple sites use to create life-like images of teachers who are actually speaking from another location.  Faith-based holograms. Very impressive.
In many ways, Story lived up to its amazing promotional material. Not only was it possibly the best designed and packaged conference (visually) that I've attended, but many of the speakers were excellent.  Dan Allender's message of discovering and telling the story God has written in us was brilliant, Charlie Todd (though not focusing on spiritual aspects) unpacked a suitcase full of inspiration when he showed us several of his Improv Everywhere skits.  Blaine Hogan, Creative Director at Willow Creek Church in the Chicago suburbs, contributed some wonderful dramatic presentations. (By the way, you can see some of Blaine's work from the 2009 Wonder conference Here, and a story about Willow's unique Christmas pageant Here.)  We left feeling refreshed and re-energized, all three of us deep in thought and brimming with  possibilities.
Thanks to Ben and his team for raising the bar for what creativity in the Church can look like.  I'll be back for more Story in 2011. Keep watching the New Renaissance Rising website (http://TheNewR.org) for updates on this and other creative conferences.
By the way, If you enjoy creative websites like the Story's, check out the site of  artist Daniel Baltzer, founder of the Limner Society.