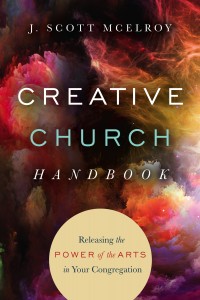 Welcome to the online extras and resources for Chapter 2: Ten Ways the Arts and Creativity Support the Church's Mission of The Creative Church Handbook. What you'll find here is material that is helpful and important, but couldn't be included in the book because of space constraints. Some thoughts include a reference to the specific page they would have appeared on.
For information and discussion on similar topics see The New Renaissance Arts Movement site at TheNewR.org. For questions, comments, or use permissions you may contact the author directly at Scott (at) TheNewR.org.
Visit our CreativeChurchArtsIdeas.org website for more ideas for creativity and arts ministry in the local church!
 Chapter 2: Ten Ways the Arts and Creativity Support the Church's Mission
One might wonder if, from what we see in the book of Revelation, worship in heaven or in the New Jerusalem will be much closer to the biblical narrative percentages of 10% instructive and 90% creative. (Pg 25)
Jesus was constantly applying inspired creativity to every circumstance.
God cherishes creative collaboration with us, and there is joy for both Him and us in it!
Here is some additional commentary on some of the 10 ways that we highlight in the book:
3. Revealing the Gospel Message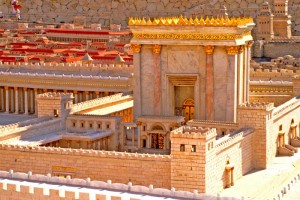 We are not implying that a message of salvation should be shoehorned into every work of art, any more than every tree should have a plaque with John 3:16 written on it. The simple existence of the art can proclaim the presence and glory of God, just as the existence of a tree does. Any art—but especially art done prayerfully, in collaboration with the Holy Spirit, and that simply expresses the message God has put in the artist—can have a profound spiritual effect and lead to salvation, even without explicitly sharing the gospel, just as an act of kindness done in obedience and love has eternal ramifications (Matt. 25:35-40).
5. Connecting in Outreach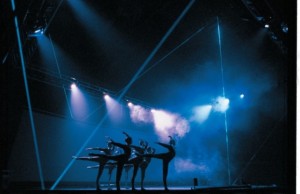 Theresa Dedmon, Director of arts at Bethel Church in Redding, CA regularly takes young artists from the church and their ministry school on missions trips. On one trip to Norway they encountered these stories:
"One member of our team painted a beautiful picture of a woman playing a grand piano in the middle of a field of flowers. Later that day the artist felt impressed to give the painting to a young lady passing by on the street. The woman was shocked. "You don't know me, do you?" she asked. The painter responded, "No, but I just felt this painting was for you." The woman quickly explained that he worked in a flower shop, but her aspiration has always been to be a concert pianist. She queried, "How did you know this about me?" "God showed me," the painter answered. The young lady was touched that God could possibly speak to her heart so directly and clearly.
After I led the team to Norway in Spring of 2009, the Norway School of Ministry went on their own missions trip to Bosnia. While doing outreach there, a Veien Bibel Skool team decided to set up and release prophetic art while they waited for their translator to arrive. An inquisitive young woman stopped to watch them and the artists began to minister the Kingdom of God to her. Through their prayers, she was healed of a physical infirmity and gladly received Christ. Art drew his heart into a 'God encounter'!"
(Cultivating Kingdom Creativity, 2009, Theresa Dedmon, pg 110)
6. Assisting in Prayer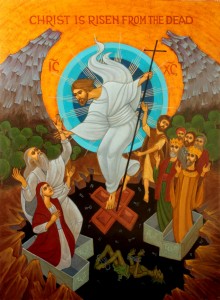 7. Helping Release Beauty in the Local Church
The Primary Chronicle reports that in the year 987, after consultation with his boyars, Vladimir the Great sent envoys to study the religions of the various neighboring nations whose representatives had been urging him to embrace their respective faiths. The result is described by the chronicler Nestor. Of the Muslim Bulgarians of the Volga the envoys reported "there is no gladness among them, only sorrow and a great stench." He also reported that Islam was undesirable due to its taboo against alcoholic beverages and pork.[15] Vladimir remarked on the occasion: "Drinking is the joy of all Rus'. We cannot exist without that pleasure."[16] Ukrainian and Russian sources also describe Vladimir consulting with Jewish envoys (who may or may not have been Khazars), and questioning them about their religion but ultimately rejecting it as well, saying that their loss of Jerusalem was evidence that they had been abandoned by God. His emissaries also visited Roman Catholic and Orthodox missionaries.[citation needed]. Ultimately Vladimir settled on Orthodox Christianity. In the churches of the Germans his emissaries saw no beauty; but at Constantinople, where the full festival ritual of the Byzantine Church was set in motion to impress them, they found their ideal: "We no longer knew whether we were in heaven or on earth," they reported, describing a majestic Divine Liturgy in Hagia Sophia, "nor such beauty, and we know not how to tell of it."
http://en.wikipedia.org/wiki/Vladimir_the_Great
8. Returning Imagination and Creativity to the Church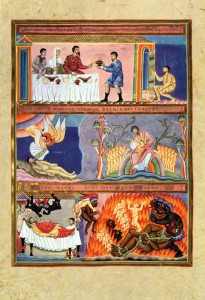 From Redeeming the Arts: The gospel comes as a living word and draws us to think imaginatively about how things could be different. Imagination is capable of moving us closer to the truth about the world as we look through the lens of scripture. As an imaginative activity, art too can open our eyes to see old things in new ways. This important role for imagination suggests that our faith communities need to do their part in cultivation an imagination well rooted in the biblical narrative and the images of scripture. (RTA, Pg 11)
Faith involves the use of the imagination but it can't work without us. It calls for an active hoping on our part.